Linting Wetlands is a river ecosystem that is dominated by tidal mangrove forests.  It is situated at the south-east corner in the state of Johor, Malaysia.
Located within the middle of the mangrove river ecosystem, lies the Belungkor Forest Reserve, which is surrounded by several fishing villages.
Approximately 80% of the local communities living here are fishermen who depend on the mangrove ecosystem for their daily livelihood.
Author: Denise Cheah
Edited by: Lee Shin Shin and Flora George
Financial support: Global Environment Facility – Small Grants Programme
Technical Assistance:  KEJORA Community of Kampung Linting, Kampung Noir, Kampung Belungkor and Kampung Tanjung Surat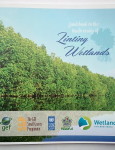 Guidebook to the biodiversity of Linting wetlands
download