Malaysia has about 5,000 km coastline of which approximately 30% is suffering from coastal erosion due to strong waves from the sea and loss of coastal forests. Challenges in river management also exist. Positive trends in temperature increase have been observed in Malaysia over the past five decades and the country faces sea level rise and floods in its lowlands.
The existing strategy is to protect eroded coastlines and riverbanks with hard water infrastructure.
Dato' Nor Hisham, Director General of the Department of Irrigation and Drainage supports the integration of nature-based approaches for flood and erosion protection: "This would help Malaysia to make environment-friendly, more sustainable, more aesthetic and likely more cost-effective hydraulic infrastructure decisions."
Malaysia's five-years National Development Plan enables preventative programs to address flood and coastal protection to increase the resilience and adaptive capacity of local communities against the impacts of climate change. This is a good opportunity to showcase and promote Building with Nature as one leading strategy in coastal flood mitigation.
Adopting a Building with Nature approach could also help Malaysia to increase the rate of restoration of the coastal mangrove zone, which could contribute to achieving Malaysia's greenhouse gas emissions emission reduction target (45% by 2030 compared to 2005, NDC Malaysia).
While the adoption of Building with Nature by decision makers and policy makers will require a strong science base, Dato' Keizrul already sees changes in the hard infrastructure paradigm: "There is growing awareness in Malaysia that the traditional approach of just using hard hydraulic structures to mitigate coastal and water challenges is inadequate."
Dato' Keizrul, Wetlands International Malaysia, who is leading stakeholder consultations on Building with Nature in order to introduce the approach in Malaysia, sees as the main barrier for integrating NbS in Malaysia. "Pilot projects will show what it takes, along with a programme to address knowledge, capacity, policy and investment barriers."
< https://malaysia.wetlands.org/news/building-with-nature-asia-national-expert-stakeholder-workshop/>
Malaysia is one of the convening countries of the Building with Nature Asia programme, a regional initiative aiming to accelerate adaptation by integrating nature-based solutions into water related infrastructure (ranging from coasts, lakes, rivers to cities and ports) in Asia to build climate resilient landscapes that benefit people and nature.
Other convening countries include Indonesia, Philippines, India, and China in the initiative led by Wetlands International and the Indonesian Ministry of Marine Affairs and Fisheries in collaboration with EcoShape, One Architecture and the Global Center on Adaptation. The initiative will be launched at the Climate Adaptation Summit in January 2021.
You are invited to contact Dato' Keizrul Abdullah for more information and to get involved! ([email protected])
(Building with Nature Asia leaflet can be downloaded here.)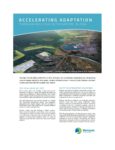 Building with Nature Asia leaflet
download