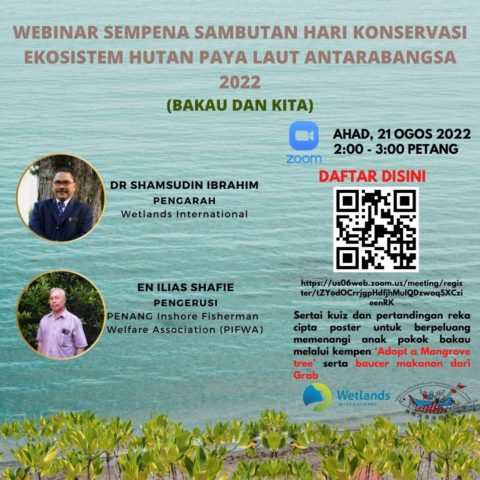 WEBINAR SEMPENA SAMBUTAN HARI KONSERVASI EKOSISTEM HUTAN PAYA LAUT ANTARABANGSA 2022
Wetlands International Malaysia dengan kerjasama Penang Inshore Fishermen Welfare Association (PIFWA) menjemput anda untuk menyertai webinar yang akan membincangkan kepentingan ekosistem bakau terhadap kehidupan dan peranan masyarakat dalam memulihara hutan paya bakau.
Tarikh: Ahad, 21 Ogos 2022
Masa: 2:00-3:00 petang
Sertai kuiz dan pertandingan reka cipta poster untuk berpeluang memenangi anak pokok bakau melalui kempen 'Adopt a Mangrove tree' serta baucer makanan dari Grab.
Pendaftaran adalah percuma dan setiap penyertaan akan diberikan sijil penyertaan digital. Penyertaan dari pelajar universiti adalah digalakkan.
Daftar disini:  https://tinyurl.com/2s3nhh43
WEBINAR IN CONJUNCTION WITH THE INTERNATIONAL DAY FOR MANGROVES
Wetlands International Malaysia in partnership with Penang Inshore Fishermen Welfare Association (PIFWA) invites you to join a webinar that will reveal to you about the importance of the mangrove ecosystem and the public's role in helping to conserve mangrove forests.
Date: 21 August 2022 (Sunday)
Time: 2:00-3:00 pm
Join in the quiz and poster design competition to get a chance to adopt a mangrove seedling through the campaign 'Adopt a Mangrove tree' and win a food voucher from Grab.
Registration is free and all participants will be given a digital certificate (E-Certificate). University students are encouraged to join.
Register here: https://tinyurl.com/2s3nhh43