It's good to have some bookkeeping knowledge as it will help you to monitor your income and expenses and measure the performance of a project or business that you are involved in.
The 5th series of the SGP Capacity building training, was conducted by Wetlands International with SGP on the topic – The Basics of Bookkeeping. This course aimed to improve participants' understanding of the importance and steps of bookkeeping, the audit process, and the annual tax.
VIRTUAL CAPACITY BUILDING TRAINING SERIES FROM SGP MALAYSIA
Topic: The Basic of Bookkeeping
Day & Date: 25th May 2022, Wednesday
Time: 8.45am – 1.00pm
Venue: Zoom
The training is open for public to join and please encourage your community members to join the training if they are interested. Participants with basic financial background or whom managing the accounting of project are encouraged to attend.
(Bahasa Malaysia version)
Anda dijemput untuk menyertai siri ke 5 Latihan Pembangunan Kapasiti yang dianjurkan oleh Wetlands International bersama SGP yang bertajuk Asas Buku Simpan Kira-Kira. Sesi latihan ini diadakan bertujuan untuk meningkatkan pemahaman mengenai kepentingan dan langkah-langkah membuat Buku Simpan Kira-Kira, proses audit dan cukai tahunan syarikat.
SIRI LATIHAN PEMBANGUNAN KAPASITI MAYA DARI SGP
Topik: Asas Buku Simpan Kira-Kira
Tarikh & Hari: 25 Mei 2022, Rabu
Masa: 8.45pagi – 1.00 tengah hari
Tempat: Zoom
Latihan ini terbuka kepada luar dan sila galakkan rakan komuniti anda untuk menyertai latihan ini jika mereka berminat. Peserta yang mempunyai latarbelakang kewangan atau yang menguruskan perakaunan projek adalah digalakkan untuk hadir. Dilampirkan bersama adalah poster dan perician program.
Terima kasih.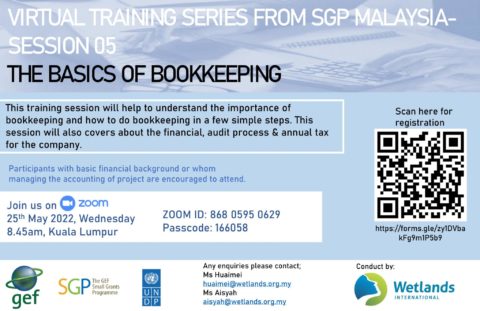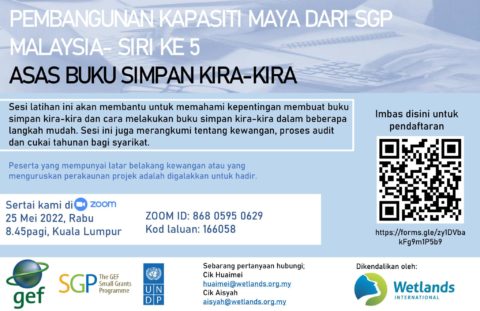 Training programme: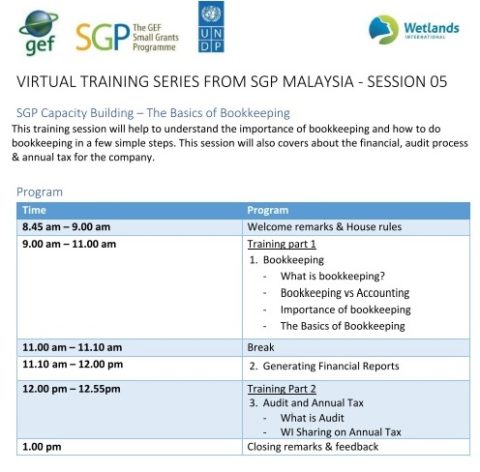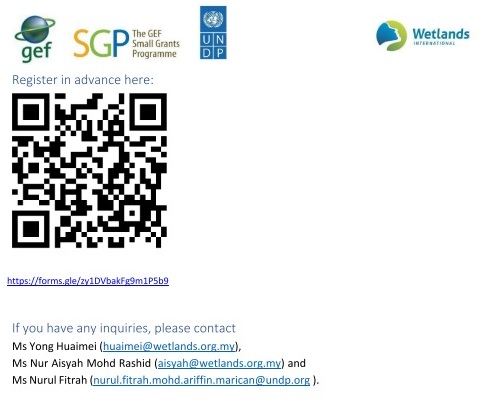 Profile of Trainer:
Name: Khadijah binti Ahmad
Qualification: Bachelor in Social Science (Accounting and Economics), Southampton University, UK,  1990
Work Experience: 6 years in a commercial bank, 26 years with Wetlands International
Areas of Experience: Handling full set of Accounts, Project Accounts (different formats based on different funders), setting up an office in Brunei (fulfilling legal and statutory requirements), handling Statutory Audit and Funders' Audit and preparing budgets for projects and office.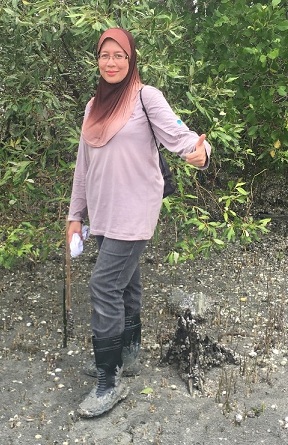 Here is the link to the recorded session:  https://bit.ly/3wNdtR2
Slides – The basics of bookkeeping

Slides- The basics of bookkeeping

download
Photo session