Wetlands International ingin menjemput anda untuk menyertai sesi pembangunan kapasiti ke-06: Penggunaan Media Sosial Secara Bijak. Sesi pembangunan kapasiti ini akan memperkasakan kemahiran peserta-peserta dalam penghasilan isi kandungan yang inovatif bagi tujuan advokasi. Harap maklum bahawa sesi ini akan dijalankan dalam dwi-bahasa (Bahasa Malaysia + Bahasa Ingeris), sila jemput rakan sekerja serta rakan dari komuniti untuk menyertai sesi ini. Sila rujuk poster yang dilampir untuk maklumat yang selanjutnya.
(Wetlands International would like to invite you to join our capacity building training session series 06 on how to use social media creatively in developing informative content for advocacy purposes.)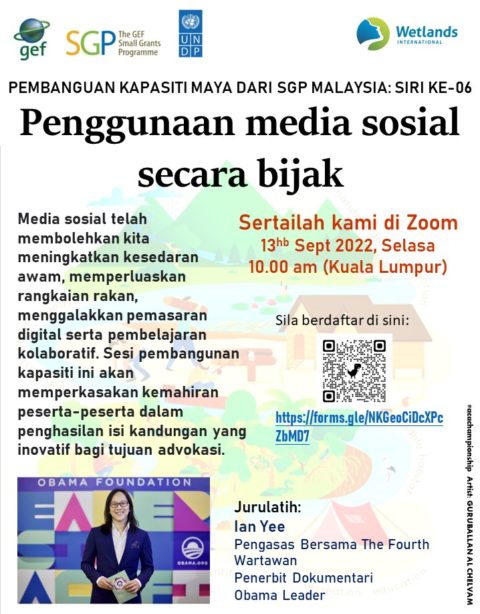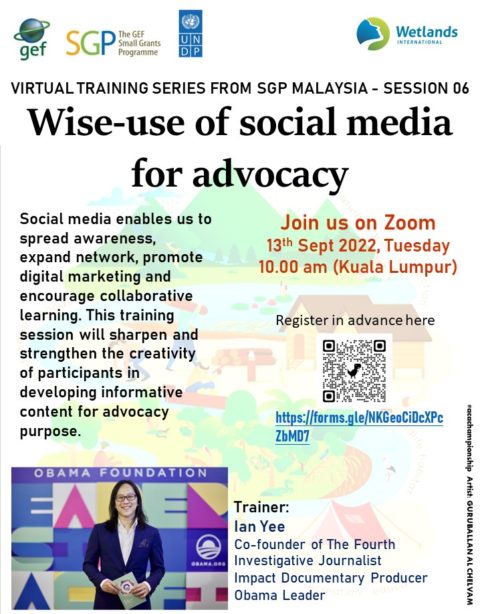 Pembangunan Kapasiti Maya Dari SGP Malaysia
Sesi VI: Penggunaan Media Sosial Secara Bijak
Pelatih: En Ian Yee (dari The Fourth Media)
Tarikh & Masa: 13hb September 2022 (Selasa); 10.00 – 11.30 pagi
Pautan Pendaftaran: https://forms.gle/NKGeoCiDcXPcZbMD7
Tempat adalah tidak terhad, jemputlah rakan-rakan untuk belajar bersama.
Link untuk venue:
https://us06web.zoom.us/j/86742698797?pwd=dEF6cGNXdVQ0MStIU0x1QW5hN2JJZz09
Meeting ID: 867 4269 8797
Passcode: 698328