Pada 10hb November 2021, Wetlands International telah mengadakan satu sesi asas "Cara Menggunakan Aplikasi Zoom" untuk penerima geran SGP. Program ini adalah asas pengenalan dan akan disusuli dengan program-program lanjut akan datang. Tugas Wetlands International adalah untuk membantu GEF SGP dalam memberikan latihan untuk meningkatkan kapasiti penerima geran (Grantee) – tertumpu kepada topik yang dipilih melalui survei. Wetlands International juga bertanggungjawab untuk menilai laporan projek yang dihantar oleh Grantee dan mengadakan perbincangan focus secara berkumpulan  – untuk memastikan laporan projek dan pengurusan kewangan yang berkualiti tinggi dihasilkan oleh Grantee. Selain daripada itu, Wetlands International juga akan mengatur perjalanan Pemantauan dan Penilaian (Monitoring & Evaluation) ke tapak projek terpilih untuk penyelaras GEF SGP dan ahli National Steering Committee.
On 10th November 2021, Wetlands International conducted a training session "How to Use the Zoom Application" for SGP grant recipients. This was a very basic training to help some grantees who have little or no knowledge on how to use Zoom as a virtual communication platform.  This will be followed by other trainings  which can empower locally established NGOs/ CBOs/ CSOs to ensure their sustainable operation within the country.
Wetlands International's task is to assist GEF SGP in providing training to increase the capacity building of grantees (Grantee) – focused on topics selected through surveys. Wetlands International is also responsible for evaluating project reports submitted by Grantee and holding focus group discussions – to ensure high quality project reports and financial management are produced by Grantee. In addition, Wetlands International will also arrange Monitoring & Evaluation trips to selected project sites for GEF SGP coordinators and members of the National Steering Committee.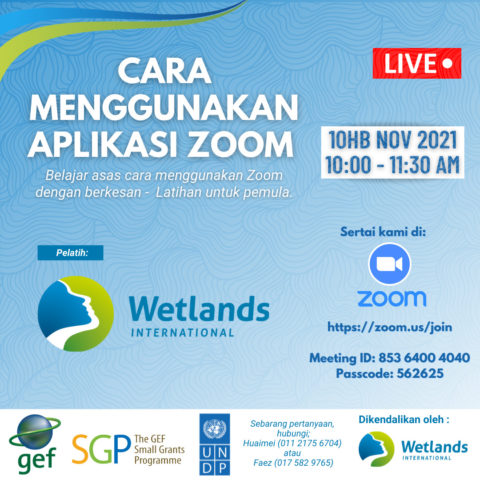 Please click on the link below to view the recording of the training session.
https://drive.google.com/file/d/1IOLRu7dy1pnhOPrvkeNkU-LE8wq-O5F5/view?usp=sharing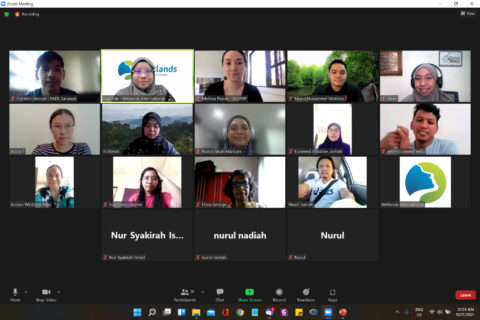 Webinar-Cara Menggunakan Aplikasi Zoom.pdf
download